Are you following all 10?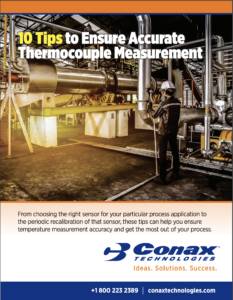 Conax Technologies has identified 10 factors that can impact the accuracy of your thermocouples and compiled them into a handy brochure to ensure accurate temperature measurement and help you get the most out of your process.
From choosing the right sensor for your particular process application to the periodic recalibration of that sensor, our 10 tips can help increase product quality and production efficiency.
This helpful guide will take you through the thermocouple selection and installation process to ensure accurate performance with your sensor.
Conax standard and custom-designed thermocouples
and RTDs
For over 70 years, Conax thermocouple designs have proven their durability and reliability in applications ranging from large industrial processing plants to highly specialized laboratory testing and validation. Our extensive knowledge of the science of temperature measurement and the physical properties of materials used for sheathing and insulation, enables us to recommend the most effective product or custom design a solution to your application needs.
Conax temperature sensors are engineered, tested and inspected before shipment, and our quality assurance programs conform to AS9100D, ISO 9001:2015 and IEC 80079-34 standards. We also offer calibration services in compliance with MIL-I-45662 and AMS2750E to ensure pinpoint accurate output at given temperatures.
We're here to help. If you have questions or need a customized design for your application, email us at Conax@ConaxTechnologies.com, call +1 800 223 2389, or submit a contact form.
Download the brochure
Download 10 Tips to Ensure Accurate Thermocouple Measurement
View our products