Conax Thermocouples for Epitaxial Reactors
Description
Conax Thermocouples for ASM®

‡

EPSILON®

‡

Reactors
‡ ASM® and EPSILON® are registered trademarks of ASM International. Neither Conax Technologies nor its products are affiliated with, licensed, approved by or sponsored by ASM International.
Up to 3X longer life and savings of 35%-45%
Conax introduces EtchDefender™—the patented solution for extending the life of quartz thermocouple sheaths. EtchDefender™ is a quartz coating technology that can triple the life of the quartz sheath and provide savings of 35% to 45%. Conax's cutting-edge technology has been tested both in the laboratory and in a production environment at a major wafer manufacturing facility.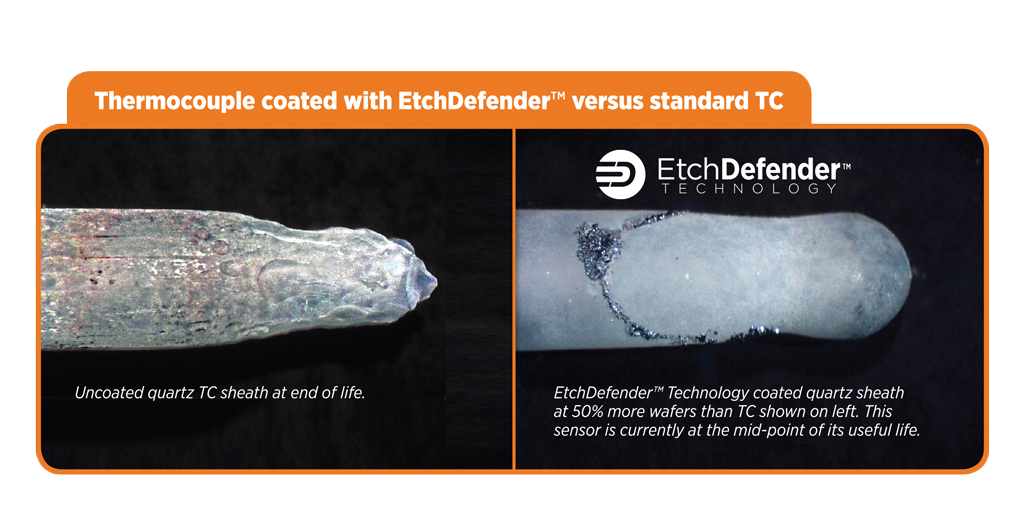 EtchDefender™ advantages
Laboratory and production testing have shown:
No particulation
Increased Durability
Slower quartz devitrification
Slower quartz erosion
Longer life
Highest Quality
We manufacture our sensors using the best available materials, cleanest assembly cell and the finest workmanship in the industry.
Best Available Materials
Pt and Pt/Rh wires are manufactured from mined ores – never manufactured from recycled materials
Quartzware is exclusively semiconductor grade with 3 available levels of quality
Insulators are of 99.5% purity or better, and are fired to remove organic impurities
Connectors are laser engraved with serial numbers
Finest Workmanship
Experienced and certified assemblers are used for every operation
Electronic process flow, work instructions and revision control ensure manufacturing integrity
Rigorous testing is performed at all assembly steps
Precision laser welding is used to microscopically weld and immediately inspect the quality of every junction.  The process minimizes HAZ (Heat Affected Zone) damage to the very small diameter wires and junctions used within the product line
AS9100C, ISO 9001:2008 Certified
Cleanest Assembly Cell
State-of-the-art assembly cell incorporates key clean room standards that minimize airborne particles
Laminar flow tables are used for assembly operations
Assemblers are outfitted in clean room apparel, gloves and magnifying goggles
Customized Designs
We are the only manufacturer who can customize designs and configure sensor sets that optimize our customers' performance objectives.  We start specifying our sensors using a base configuration model comprised of selecting one of 7 quartz sheath thickness options and one of 4 wire diameter options, creating the possibility of 28 base configuration models.
| | | |
| --- | --- | --- |
| Quartz Sheath Thicknesses | | Wire Diameters |
| Series 59: 0.059" (1.500mm) | | Variation 05: 0.005" (.127mm) |
| Series 49: 0.049" (1.250mm) | | Variation 08: 0.008" (.203mm) |
| Series 39: 0.039" (1.000mm) | | Variation 10: 0.010" (.254mm) |
| Series 31: 0.031" (0.800mm) | | Variation 12: 0.012" (.305mm) |
| Series 29: 0.029" (0.725mm) | | |
| Series 23: 0.023" (0.575mm) | | |
| Series 20: 0.020" (0.500mm) | | |
Other customized features include specifying:
NEW—EtchDefender™ quartz sheath coating—up to 3X longer life
 3 quality grades of quartz sheaths
Quartz Quality Index:
Series Number XXXXP = Premium Quality Quartz
Series Number XXXXE = Enhanced Quality Quartz
Series Number XXXXS = Standard OEM Quality Quartz (Semiconductor Grade)
Center TC tip options – grounded or non-grounded
Diffusion options – non-diffused or diffused
Thermocouple wires – special long-life thermocouple wire options are available
Packing – standard or special
Cross Reference Chart
Conax currently produces over 450 part numbers for the various designs we have developed for our customers. The following chart shows the 34 OEM part numbers cross-referenced to the Conax base configuration descriptions, other standard offerings that Conax routinely manufactures and other options that we could easily add for your unique need...