Conax Bearing Sensor Wire Compression Seal Feedthrough (BSWS) & Transducer Wire Seal (TWS)
Description

Example: BSWS4-20-A3-V
Continuous Wire Feedthrough for Embedded Bearing Temperature Sensors while sealing securely to prevent oil wicking along the leads.
Conax Technologies BEARING SENSOR WIRE SEAL efficiently seals directly on the individual insulated leads of an embedded bearing temperature sensor exiting an oil-filled bearing housing.
Typical applications include the sealing of these leads on large motors, generators, turbines, pumps, compressors and journal bearing pedestals.
Features:
* Stainless Steel Fitting
* For Bearing Oil Sealing
* Easy Installation – No "Potting"
* Seals 2 to 14 Wires
* Pressure: to 50 PSI (3.4 bar)
* Temperature Range: Ambient to 100°F (37.8°C)
* Field Adjustable
* Reusable Fitting
Transducer Wire Seals (TWS)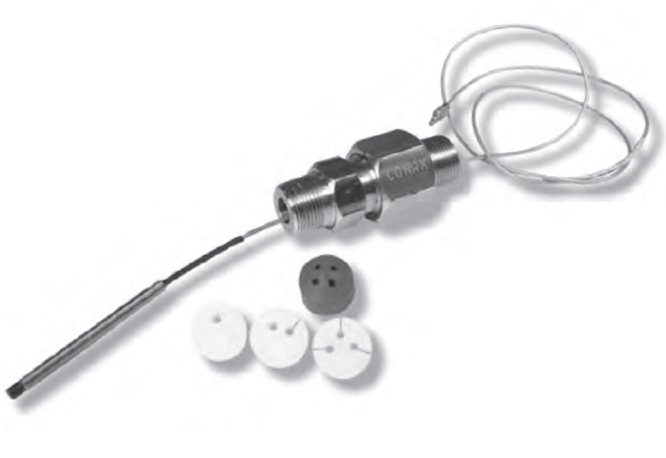 This version of the Conax sensor wire seal is designed to seal transducer cables entering low-pressure oil-filled cavities in rotating equipment. Since these transducers are typically manufactured with a factory assembled sensor and connector, the fitting has split internals to seal the outside jacket of the transducer's cable.
The Transducer Wire Seal (TWS) comes standard with a four hole split Viton sealant and with four split PTFE backing disks. The backing disks will have 1, 2, or 3 holes so one sealing fitting can seal up to three
vibration, proximity and pressure transducer sensor cables.
Unlike competitors' designs, the Conax design requires only one PTFE backing disk and does not require the end user to punch out the holes.
Call Conax today to learn more about complete line of sensor wire seals – and how we can customize a solution for your application.