Innovative ideas that fuel a cleaner world
Fuel cell technology plays a vital role in helping to build a cleaner and more sustainable world for future generations. And Conax Technologies is dedicated to supporting the rapidly advancing fuel cell industry with high-performance solutions that improve efficiency—and profitability.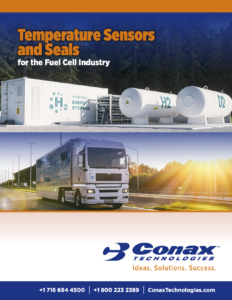 Download our latest fuel cell brochure
Conax has developed a new brochure featuring Conax temperature sensors and pressure/vacuum sealing devices that are used both within the fuel cell stack and in the balance of the plant—including in energy storage systems. Download the brochure for more information.
Sensors and seals for fuel cells and energy storage
Our highly accurate sensors span the range from small diameter probes that fit tight spaces between plates to assemblies with exotic materials that resist environmental challenges. Our temperature sensor assemblies are accurate in temperatures ranging from subzero to 4200° F (2315° C) and can are used for a wide range of fuel cell applications.
Conax's broad range of feedthroughs and sealing devices with soft sealant technology are used throughout the fuel cell as terminals, power lead feedthroughs and bulkhead seals on electrodes, conductors, instrument wires, humidity sensors leads, and thermocouple or RTD leads and sheaths.
Visit our website for more product details.
The highest standards of quality
Conax is committed to providing the highest quality products, fast turnaround, and on-time delivery. Here are a few reasons why industry leaders rely on Conax products:
ISO/IEC 17025:2017 accredited and AMS 2750F compliant calibration lab
AS9100D with ISO 9001:2015
Metrology laboratory to NIST standards
Pressure test capabilities to 100,000 psi
Leak test by helium mass spectrometer
Vibration test – Unholtz Dickie
Want to know more? Contact us directly, send us an email, or call +1 800 223 2389.