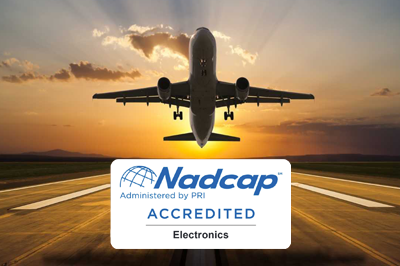 Accreditation ensures Conax meets stringent requirements for cable and harness assemblies
Conax Technologies has received Nadcap accreditation signifying that our operations meet AC7121 audit criteria for electronics in the manufacture of cable and harness assemblies.
Nadcap (National Aerospace and Defense Contractors Accreditation Program) is a globally-recognized accreditation program, driven by a stringent set of quality assurance standards that have been established by the consensus of experts from both the government and private industry.
According to the Performance Review Institute (PRI), the governing body for Nadcap, "Only the best companies in the global aerospace supply chain achieve Nadcap accreditation."
What this means for Conax customers
Nadcap is a process-specific accreditation that ensures cable and harness assemblies manufactured by Conax:
Meet stringent, industry-wide standards that satisfy requirements of all participants from the aerospace industry and government
Bear the "seal of approval" for operating at the highest possible standards of quality and consistency
Utilize aerospace industry best practices that result in improved performance throughout a broad range of industries and applications
Find out more
In addition to customized cable and harness assembles, Conax designs and manufactures temperature sensors and compression seal fittings for diverse industries worldwide and is certified to AS9100D with ISO 9001:2015 standards.
For specific inquiries or to request a quote, email us at Conax@ConaxTechnologies.com or call us at +1 800 223 2389.