Standard and customized fittings and feedthroughs
For more than 70 years, Conax Technologies has been a global leader in the design and manufacture of compression seal fittings for an extensive range of industries and applications.
Conax manufactures more than 600,000 compression seal fitting assemblies in our state-of-the-art production facility, and our sales and engineering staff continue to break new ground with custom designs and problem-solving skills.
Our customers consistently count on Conax to provide standard fittings and feedthroughs, as well as innovative, customized solutions that are specially designed to meet their most complex challenges.
The Conax difference: soft sealant technology
Conax pioneered soft sealant technology which, when combined with mechanical compression, results in a secure seal on wires, probes, and electrodes. While competitive seals that utilize epoxy fillings are easy to install, they're often unreliable in protecting your environment due to incorrect bonding of the epoxy to the elements or housing. Cracks will develop and this allows gases or liquids to leak around the elements.
Thanks to our soft sealant technology, Conax fittings maintain constant compression around the elements throughout the life of the seal to minimize risk of gas or liquid leaks. Soft sealant technology also makes installation, replacement and adjustment to wires, probes, and electrodes possible.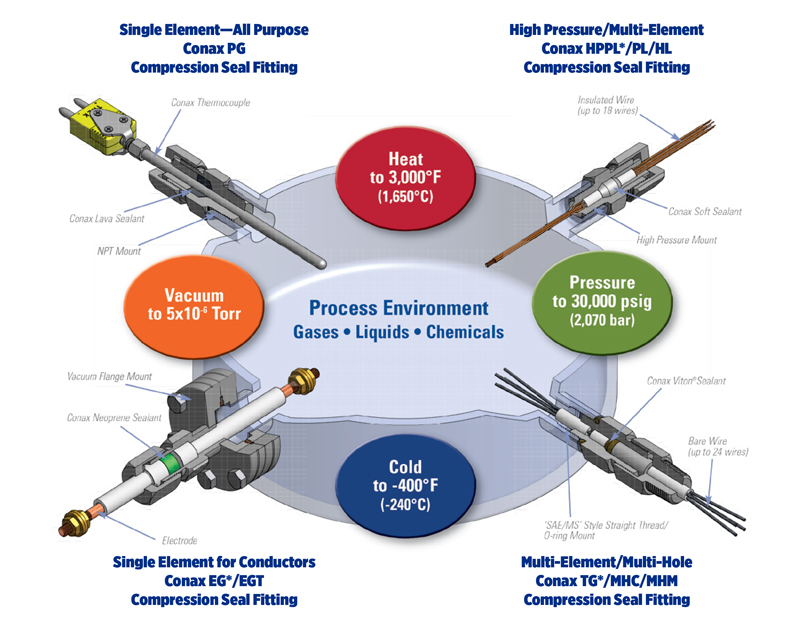 Innovative Conax solutions
Let us know how we can help
We welcome unique challenges and strive to be your indispensable partner. For customized solutions, contact us today. Call 1.800.223.2389 or use the form to email us.