Standard and custom solutions for compression seal fittings
We manufacture more than 600,000 unique versions of compression seal fitting and feedthrough assemblies in our state-of-the-art production facility. Whether it's a unique customized solution or a standard product from our extensive catalog, Conax is your fully-integrated source for compression seal fittings. With over 70 years of engineering solutions, our customers can count on us to help them meet their complex challenges.
We design pressure and vacuum mechanical compression seal fittings (also known as sealing glands) and wire assemblies and probes for a variety of industries worldwide, including power generation, semiconductor, oil and gas, aerospace, furnace, autoclave, and more. Plus, with Conax, you can count on timely delivery and a competitive price.
Innovative sealing solutions
Conax pioneered soft sealant technology which, when combined with mechanical compression, results in a secure seal on wires, probes and electrodes. Soft sealant technology also helps with easy installation and replacement or adjustment of wires, probes and electrodes.
We can create custom designs to address special needs. For example, we designed a special seal fitting with a recessed pocket for a thermocouple to achieve greater measurement accuracy in a limited space. View one of our typical Case Studies to find out more.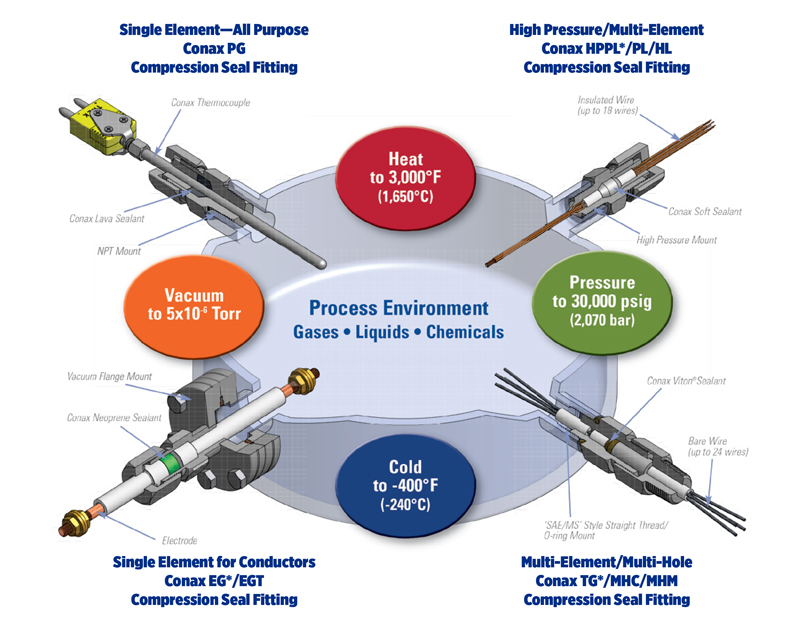 Let us know how we can help
We welcome unique challenges and strive to be your indispensable partner. For customized solutions, contact us today. Call 1.800.223.2389 or use the form to email us.