Conax Pipe Clamp Thermocouples
Description
Conax Technologies stainless steel pipe clamp assemblies assist in obtaining accurate readings of outside pipe temperatures. They can be used wherever direct immersion probes are impractical or undesirable or where extreme corrosion is a problem.
– Outside application leaves high-pressure lines unbroken
– Easily installed – simply place the opened clamp around the pipe, slip the band end into the worm-gear housing and tighten with a screwdriver.
Pipe Clamp/Sheathed Thermocouple 


The catalog number for a pipe clamp/sheathed thermocouple with a terminal head is indicated by placing the pipe clamp catalog number immediately after the terminal head designation. For example, an adjustable pipe clamp thermocouple with a 0.125″ diameter 304SS sheath, using an Iron-Constantan grounded junction thermocouple 18″ long and terminated with a B2 head for a 2″ pipe would have this catalog number:
Example: J-SS12-G-B2-CL40-18.00″
Pipe Clamp/Wire Thermocouple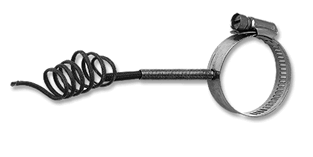 Pipe clamp thermocouples are also available in an alternative design consisting of a clamp with 20 gauge thermocouple wire (Types J, K, E & T) and a spring vibration dampener. Standard wire length is 18.00″. Longer lengths are available. To order this assembly, indicate the pipe clamp catalog number, followed by the calibration and optional wire length if applicable (if nothing is indicated, 18″ standard will be supplied).
Examples: CL-10-J or CL-10-J-36.00″
Pipe Clamp Thermocouple Specifications
| | | |
| --- | --- | --- |
|  Catalog Number |  Nominal Pipe Sizes (NPT) |  Minimum ID |
|  CL-10 |  3/8″, 1/2″, 3/4″ | 5/8″ |
|  CL-16 |  1/2″, 3/4″, 1″ | 13/16″ |
|  CL-24 |  1″, 1-1/4″, 1-1/2″ | 11/16″ |
|  CL-40 |  2″, 2-1/2″ | 2-1/16″ |
|  CL-52 |  2-1/2″, 3″ |  2-13/16″ |
|  CL-64 |  3-1/2″, 4″ | 3-9/16″ |
|  CL-88 |  5″ | 5-1/16″ |
|  CL-104 |  6″ | 6-1/16″ |