Solutions for the Petrochemical Industry
Your indispensable partner
Innovative ideas. Customized solutions.
For over 65 years, Conax has been a leader in the design and manufacture of temperature sensors and compression seal fittings for a broad variety of applications and a wide range of industries. Our innovative designs span the upstream and downstream sectors of the petrochemical industry.
Conax is a leading source for thermocouple and RTD temperature sensors, compression seal fittings, instrument feedthroughs, retractable analyzer sample probes, retractable chemical injection quills and Class 1, Division 1 wire conduit seals. We have developed customized solutions for a number of highly specialized client challenges, including:
Ultra-high-pressure compression seal fittings with 65,000 PSI operating pressure rating.
Redundant seal assemblies for probes and instruments inserted into gas or liquid processes.
A temperature sensor assembly with an SASiC protection tube that can withstand extreme high temperatures and can be rotated 180° to double the life of the sensor.
Single and multiple bore split internal compression seal fittings to seal long, down-hole temperature sensors; the split internal design allows for the surface assembly at the well-head flange of the seal to fit over the installed sensor's termination.
The ideas for our custom-designed solutions are the result of strong partnerships with our customers. We listen to your challenges and work with you to engineer the best solutions. Our comprehensive solutions have been applied to upstream exploration, extraction and R&D and to downstream refining, distribution and storage.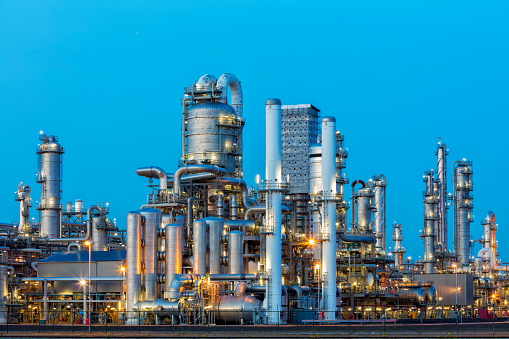 Sample Probe Assemblies
Conax Technologies' Sample Probe Assemblies (SPA) are used to insert and retract an analyzer sample probe or injection quill into a pressurized process through a process isolation valve. Conax SPAs are designed for unique applications, including: process analysis, flare stack emissions, hot tapping liquid or gas streams, and more. Conax features include:
Plasma welded stop collar
Retaining Chain Kit
Wake frequency calculations
Various probe ends and valve types available
If you need engineering help to ensure you're choosing the proper SPA for a specific application, we've created the Wake Frequency Solution Builder™ to generate immediate, online wake frequency calculations. This tool enables you to enter data for the specific SPA you need and receive immediate calculation results, based on ASME PTC 19.3 TW-2010 and/or IEC/TR 61831 standards. If there are problems with the configuration of your SPA, you'll see exactly what needs to be adjusted. If the design is approved, you'll see confirmation that each element tested has passed, and you can contact us to purchase the SPA.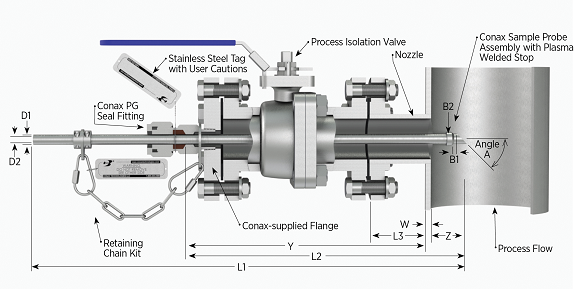 Direct Immersion Grounded Junction Thermocouples—Conax Technologies has developed and tested a direct immersion, 1/8" diameter grounded junction thermocouple design for operating pressures to 40,000 PSIg. Units have been proof pressure tested to 60,000 PSIg at room temperature. This design uses an economical proprietary method of silver brazing a high pressure fitting directly to the thermocouple sheath. Testing concluded that the thermocouple's calibration (Type J Thermocouple) was maintained after silver brazing and pressure testing.
Sample Probe Assemblies—Conax Technologies' Sample Probe Assembly (SPA) is used to insert and retract an analyzer sample probe or injection quill into a pressurized process through a process isolation valve. Ideal for unique applications such as process analyzing, flare stack emissions, or hot tapping liquid or gas streams.
Temperature Sensors with Thermowells—Thermowells are pressure-tight receptacles that extend the life of a temperature sensor in environments where the sensor is not chemically compatible with the process media or the sensor does not have the mechanical strength to withstand the process flow or pressure. Thermowells also facilitate removing, changing, checking or replacing sensors without draining the process system. The use of standardized thermowells throughout a plant permits easy relocation of sensors.
Bring us your unique challenges.
We know that innovative ideas come from collaboration. By taking the time to understand your unique challenges, we develop the ideal solutions that help you—and your customers—succeed.
Our commitment to providing quality, innovative products on time and at a competitive cost continue to make us an indispensable partner for every customer we serve.
Customer loyalty
Customer satisfaction and loyalty fuels everything we do. Conax is proud to maintain a Net Promoter Score that is consistently in the 99th percentile.
Complete the contact form to find out more